Welcome
Welcome to the website companion of the Third edition of Circuits, which was developed to serve the student as an interactive self-study supplement to the text.

The navigation is highly flexible; the user may go though the material in the order outlined in the table of contents or may proceed directly to any exercise, module, demo or Tech Briefs.
We hope you find this website helpful and we welcome your
feedback
and suggestions.

Textbook Resources
Software Installation
Software is used to bring the concepts discussed in the book to life. These files are provided to give you a head start in simulating and exploring concepts.
NI MultisimTM and LabVIEWTM Student Editions - See activation code instructions listed inside the Book's front cover.
If you have a used copy of the Book, you will need to purchase the software through: http://www.ntspress.com/student-edition-software/.
Getting Started


Student Resources
Instructor Resources
About the Book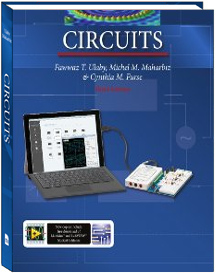 Fawwaz Ulaby
University of Michigan
Michel Maharbiz
University of California, Berkeley
Cynthia Furse
University of Utah

Language: English
ISBN: 978-1-934891-22-3